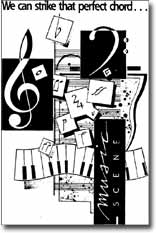 click image to enlarge
UniChord Productions
UniChord Productions' name comes from my band from the past called, "The Unichords," which played many weddings, special events, and performed on "Polka Varieties" on channel 5 in Cleveland, Ohio for many years. That was the start.
UniChord Productions is available for specific needs of a client. Lights, staging, effects, sound, advertisements, production advice, large to small venues, talent, bands, vast choices of entertainment and "hands on" experience in all forms of special events planning and consultation. We are here to serve the client, and make the ideas come to life.
Set up a meeting soon for our ideas, and consult our staff on the events that need that "special touch." When in doubt, please consult. We have the experience in all forms of entertainment, and events planning to make your event special and complete. >From small to large venues, and to small to large menus. Allow us to make your event and or events the talk of the town.
Call us for production ideas, and past events we have planned.
Leave it to the professionals, that's us at, All*Topp Entertainment, and UniChord Productions.
Contact Us, anytime. The Complete Entertainment Service.